Our passion is using our creative talents to produce high quality, effective sign systems that reflect our clients' professionalism and uniqueness.

We truly are sign people that live and breathe signs and displays. We pride ourselves on having an eye for artistic design and having the ability to develop quality creative solutions on any project that comes our way. We are extremely dedicated to producing quality work that is attractive, effective, and durable. We use the industry's highest quality products and equipment so that our work stands up to the test of time as well as contemporary technology allows. We attempt to understand the desired effect of every project, so that our customers end up with a suitable sign system that meets the project's goals and exceeds the client's expectations. We understand that an image or brand being portrayed by a business or organization via a logo, design, or sign is often the first impression they are sending to potential customers; and first impressions last forever. We aim to help our customers portray themselves with an image or brand that is exactly what they envision and that sends the appropriate message effectively.

We are proud members of the WSA, ISA, and TSSA.
A BRIEF HISTORY
Young Sign Company is a family owned & operated business, founded in 1978 by Gene Young with 2 employees: daughter, Ann and son-in-law, John Hoins. Gene's youngest son, Tom Young, came on full time a few years later and together the four grew Young Signs from a small hand lettering and screen printing company to what is now a full service electric sign company manufacturing signs using cutting edge sign technology. John & Ann's three sons grew up in the sign company and now form the third generation working in the family business.
Young Sign Company Founded
Gene Young purchases Herbert Signs, and starts Young Sign Company with daughter, Ann and son-in-law, John Hoins.
Tom Young Joins the Team
After working summers when home from college at Baker University, Tom joins the Young Sign Company team full time.
Added Aerial Capabilities
In the early 1980s, Young Sign Company purchased our first aerial vehicle, allowing for higher installations.
Young Sign Company Buys a Gerber Signmaker IVB
In 1984, Young Sign Company becomes one of the first sign companies in the country to invest in the Gerber Signmaker IVB, beginning the transition from paintbrushes and lettering enamels to plotters and vinyl. It came equipped with a single font (Helvetica Medium Auto-Kern), with additional fonts available (up to 8 maximum) for a cool $500 each. At that time it was extremely high-tech, and changed the way signs and lettering were done in the industry.
Eugene Retires
After two careers, first as as a dairy operator and then as a sign painter, Eugene Young retires.  Since then he has devoted all his time and energy to the arts, public service, volunteerism, and overall remarkable citizenship.
Digital Printing
In 1998, we went digital with the purchase of our first large format digital printer, the Arizona 180, and changed the way we produced images and decorated faces. In retrospect the output quality was quite poor compared to today's standards, but at the time we all thought it was amazing.
Yesco Kansas City
2012 was an exciting year for Young Sign Company, when we had an opportunity to sign on as Yesco's Kansas City area lighting and sign maintenance franchise. The experience, knowledge, and friendship that Yesco offers was too great to pass up, and allowed Young Sign Company to focus on sign design, printing, fabrication, and installation.
New Flatbed Printer
In 2015 we upgraded to an Oce 480 flatbed printer, capable of anything from express economy signs, to high definition museum quality output. This machine also offers white ink capabilities for second surface printing, isolated printing on of raw materials, or double strike imaging for illuminated faces.
Gene Young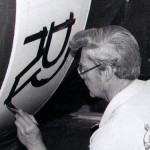 To say Gene Young is amazing is an understatement. Our founder is incredible/ More to come later.
Ann Hoins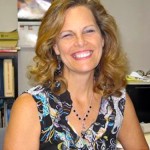 Ann has been with Young Sign Company since day 1. After graduating from Lansing High School, she studied fashion design in Texas and then art and design in Salina, Kansas. Her energy and creativity are second to none, and she's even a nice person! She is active President and majority owner of Young Sign Company.
John Hoins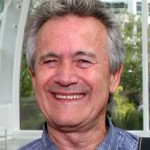 Business Management / Owner
John Hoins has worked with the sign company since 1978, and has played an integral role in strategic planning, sales, customer relations, accounting, and keeping the company progressive when it comes to acquiring new technologies in the industry.
Tom Young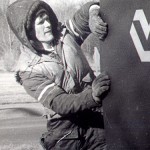 Install & Fabrication / Owner
Tom can build anything… Seriously anything. He's creative and resourceful beyond belief, and "no" doesn't exist in his vocabulary. Anything is possible, and Tom Young proves that every day.
Eric Hoins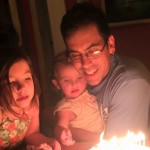 ART/PRINT PRODUCTION MANAGER
Eric Hoins is Art Director and Print Production manager at Young Sign Company. Eric grew up in the business, working part time throughout his formative years, ultimately coming on full time in 2003 after graduating from Kansas University with a degree in Art History.
Chris Hoins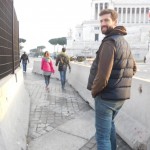 ESTIMATOR / PROJECT MANAGEMENT
Chris is head estimator at Young Sign Company, and also works in management at Yesco Kansas City.
Jeff Hoins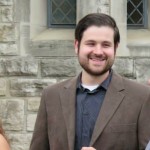 IT / ESTIMATOR
Jeff worked for years at Young Sign Company as print & vinyl production manager, but is now living in Oregon and is dedicated to IT & Network Management, making sure our digital workflow runs smoothly.
Tabitha West
OFFICE MANAGER / ACCOUNTING
Queen of the Lanes
Rob George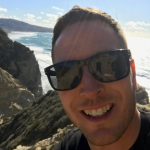 Scott Schieve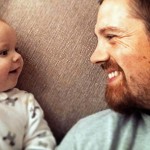 PRINT & VINYL PRODUCTION
Scott brings a mean heater.
Joe Zuker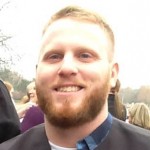 PRINT & VINYL PRODUCTION
Joe is smart enough to cheer for KU despite graduating from K-State.
Nick Arzola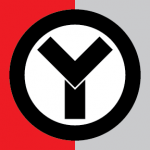 INSTALLATION
Nick is one of our newest hires.  More to come soon.
Richard Martin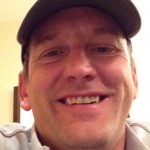 INSTALLATION
Richard is one of the newest members of our installation team.
Travis Stafford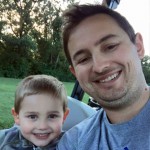 YESCO KANSAS CITY MANAGEMENT
Travis Stafford manages day to day operations for our Lighting & Sign Maintenance franchise, Yesco Kansas City.
Steve Holt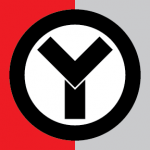 FABRICATION | INSTALLATION
Steve is the newest member of our install / fabrication team.
Mike Lansing
YESCO KANSAS CITY SERVICE TECH
Mike Lansing started with Young Sign Company a decade ago in the fabrication / installation department, but now works as Service Technician for our YESCO Kansas City franchise. Mike knows computers and electrical as well as anyone and is our go to guy on installing and maintaining dynamic sign & lighting systems.
Obadiah Harvey
YESCO KANSAS CITY SERVICE TECH
Obadiah is awesome.
Robbie Curtis
YESCO KANSAS CITY SERVICE TECH
Robbie is a certified scuba instructor.  In his freetime, he enjoys watching his son excel at sprinting.
Natalie Tucker
OFFICE ASSISTANT
Natalie recently graduated from the University of Saint Mary with a degree in accounting.  She enjoys going to the lake on the weekends.
Aaron Hite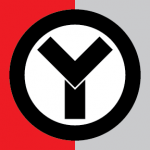 PRINT & VINYL PRODUCTION
Aaron is the newest member of our print department and doing a great job!
OUR WORK
Experience you can trust, results you can count on.